Affordable housing is getting harder to find on the Treasure Coast.
Home prices, apartment rentals and Section 8 public housing costs have been increasing over the last few years in Martin, St. Lucie and Indian River counties, according to data from the U.S. Census Bureau and the Department of Housing and Urban Development (HUD).
Renters should expect prices to continue to increase for two main reasons, local housing officials say:
High demand due to the millennial population renting instead of buying
Continued cuts to government funding and affordable housing budgets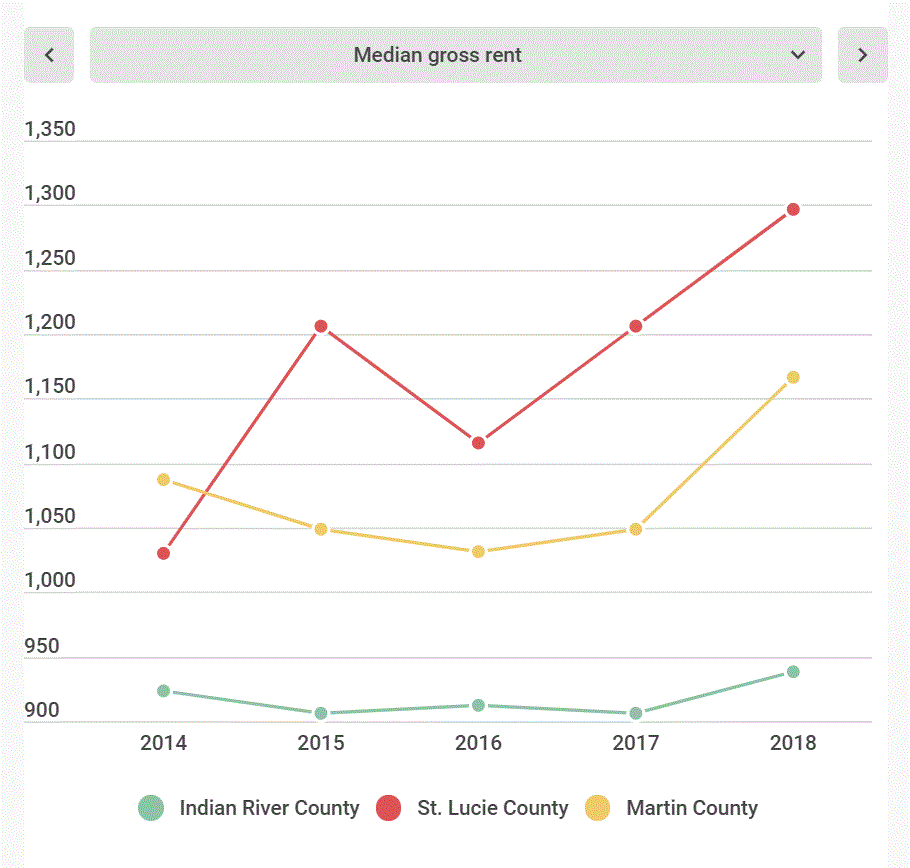 *Median gross rent and median home value were provided by the U.S. Census Bureau as reported by TCPalm.com 5-4-20
The cost of living
The federal government suggests people not spend more than 30% of their income on housing costs, otherwise they may have difficulty affording other necessities.
In Florida, which has the third largest homeless population in the nation, nearly 922,000 very-low income residents pay more than 50% of their income on housing and "are one missed paycheck away from homelessness," according to the Sadowski Housing Coalition, a nonpartisan group whose mission is securing a dedicated revenue source.
On the Treasure Coast, residents spent this much on housing in 2018:
Martin County: 35% owning and 23% renting
St. Lucie County: 33% owning and 28% renting
Indian River County: 30% owning and 22% renting
Median monthly rent in Indian River held steady in the low-to-mid $900 range from 2014-18, census data shows. Martin and St. Lucie can't say the same — increasing about $100 annually since 2017.
Median home prices have increased by about $96,000 in Martin, $83,000 in St. Lucie and $53,000 in Indian River from 2014-18, census data shows.
Even the most affordable housing options for low-income residents have increased. Fair Market Rent for Section 8 public housing, from one- to four-bedroom units, has jumped between 18% and 27% in Indian River, and 25% and 31% in Martin and St. Lucie since 2016, HUD data shows.
Affordable housing crisis
The Legislature has cut affordable housing funds allocated through its State Housing Initiative Partnership (SHIP) program to Treasure Coast counties and cities since 2016-17, Florida Housing Finance Corp. data shows.
Martin County expected to receive over $1 million in SHIP funds last fiscal year, said Mike Readling of Habitat for Humanity, who served on the county's affordable housing committee for the past eight years. Instead, it received about $360,000.
The high cost of living is pricing people out of the county, Readling said.
"The idea of affordable housing in this county is so skewed that even 'affordable housing' is out of reach ... forcing the workers and employees — that make our county tick and be the place where everyone wants to live — have to live somewhere else themselves."
St. Lucie County fared worse, receiving $124,911 last year, which was 60% of the SHIP funds it was promised, said Jennifer Hance, the county's housing division manager.
"I don't think the rental costs align with the demographic in St. Lucie County," she said. "I think it's too high."
Indian River County, which received $350,000 in SHIP funds last year, has built about 17 affordable housing units each year since 2002, according to a January 2020 report written by the county's affordable housing committee.
To meet demand, at least 3,400 new units would need to be built by 2030, the report says.
Lawmakers also have swept over $2 billion from housing funds into the general operating budget over the last two decades, according to published media reports.
This will be the first year the Legislature agreed to leave an estimated $370 million available for affordable housing programs in the 2020-21 budget, which the Sadowski Housing Coalition said would create over 30,000 jobs and have a $4.4 billion positive economic impact on the state.
A breakdown of allocations per county and city has not been released.
--
Original article posted at TCPalm.com, 5-4-20 by Catie Wegman, a community reporter who also produces "Ask Catie," an occasional feature to find answers to your burning questions about anything and everything — the more bizarre the better. Support her work with a TCPalm subscription. Contact her at catie.wegman@tcpalm.com or 772-221-4211 and follow her @Catie_Wegman on Twitter and @catiewegman1 on Facebook.